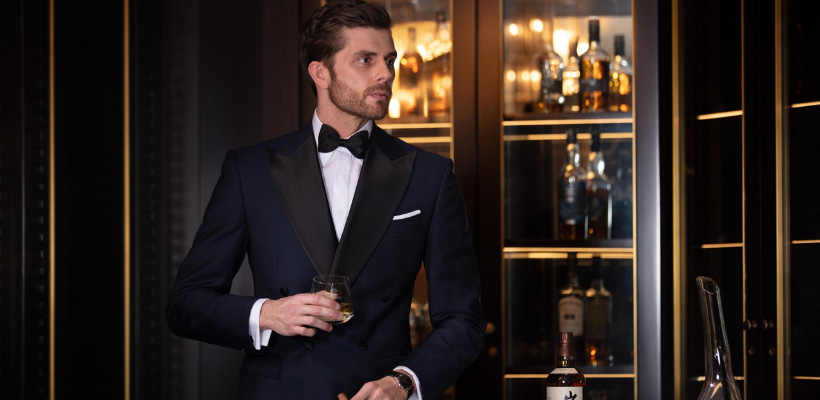 Blog
What do I Need to Know
When Shopping for a Tuxedo
17 Feb 2021
Whether you need a tuxedo for your wedding, an upcoming event, or a formal dinner, shopping for a men's tuxedo can prove overwhelming. Should you invest in a bespoke tuxedo, buy one off-the-rack or rent one? How can you determine your size and ensure your tuxedo fits properly? With so many questions, it's no wonder that tuxedo shopping has earned a reputation for proving to be a daunting process.What if we told you that it didn't have to be? What if we told you shopping for men's tuxedos could be an exciting and personal experience that ends with the perfect tuxedo for your big event? At Collars & Cuffs, we specialize in designing and crafting authentic bespoke suits and tuxedos that speak to the highest levels of quality and craftsmanship – and we're here to help.
Should You Buy or Rent a Tuxedo?
If you plan on attending at least one black tie event a year, we strongly recommend buying your tuxedo. Although slightly cheaper for one-time use, the costs associated with repetitive men's tuxedo rentals can add up quickly – often costing more than buying your tuxedo outright. Not to mention, men's tuxedo rentals are typically off-the-rack options. These rentals are mass-produced and designed based on standard general measurements, leading to an average fit at best. Tuxedo rentals are predetermined in size and style, and while you can wear them as soon as you rent them, they'll be limited in style, quality, and their ability to fit you properly. They will also most likely lack the crispness of a brand new tuxedo and based on its age may have outdated style features.
Tuxedo Style & Fit
Like suits, not all tuxedos styles work for every body type. Generally, men's tuxedos come in four different styles: traditional fit, modern fit, slim fit, and ultra-slim fit.
Traditional Fit Tuxedo: a classic, fuller tuxedo cut.
Modern Fit Tuxedo: a fashion-forward style with a flattering silhouette.
Slim Fit Tuxedo: a modern styling with a slimming appearance.
Ultra-Slim Fit Tuxedo: a trim and tapered styling that fits close to the body.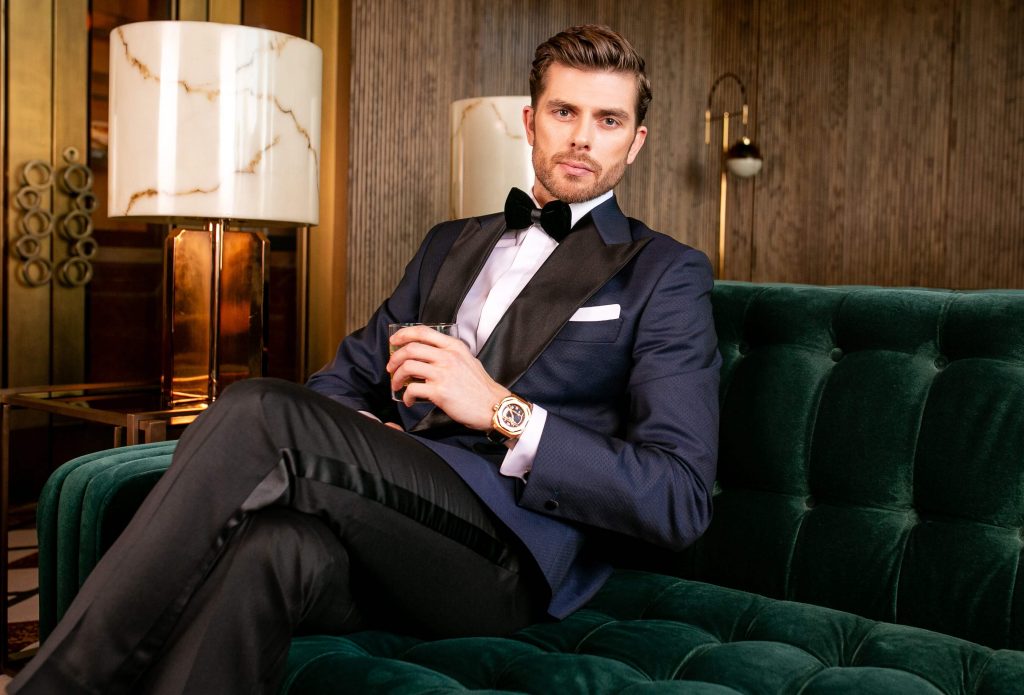 Regardless of your preferred tuxedo fit style, you want to follow some basic rules regarding your tuxedo's actual fit.
1. Shoulders: The shoulder of your suit jacket should hug the natural form of your shoulders with no overhang. If it fits well, the material will not tug or ripple.
2. Chest: When your suit jacket is buttoned up, you should be able to insert your hand into the suit jacket. If you struggle to get your hand in, your coat is too tight. If your hand fits with plenty of extra material, your tuxedo jacket is too big.
3. Jacket length: The hems of men's tuxedo jackets have gotten shorter over time, but the golden rule of sleeve length still applies. Your jacket's hem should only cover the pockets of your tuxedo pants.
4. Sleeve length: To ensure the ideal tuxedo jacket sleeve length, place your arms by your sides. Your jacket's sleeve hem should finish where your thumb bone meets your wrist, leaving half an inch of your shirt visible.
5. Waist: To avoid a boxy look, your suit jacket should nip in slightly at the waist. This will help to create a defined silhouette and enhance the appearance of a V-shaped torso.
6. Pants break: Your tuxedo pants should have only one break at the hem of the trouser. For a more modern look, you can have your pants taken up, so the hem just touches the top of your shoe, with no visible break in the fabric.
Off-rack or Bespoke Tuxedos?
Once you've decided to buy a tuxedo, you can choose between an off-rack or bespoke tuxedo. When it comes to comparing off-rack tuxedos to bespoke tuxedos, there is no comparison! A bespoke suit is truly a one-of-a-kind experience that results in inferior quality, personal customizations, and the perfect fit. While the ideal style is a personal choice, purchasing a bespoke suit allows you to have your tuxedo custom designed and crafted to your exact specifications. The customization options are truly endless, from the sheen of your satin, print of your fabric, style of your bowtie and cummarband, design of your custom tuxedo shirt, uniqueness of your lapels and trousers, it can all be decided by you. A bespoke men's tuxedo allows you to create exactly what you want to wear for your wedding or black-tie event.
Off-rack vs. Bespoke Quick Comparison
Bespoke Tuxedo Off-rack Tuxedo
●       A guaranteed perfect fit for the client.
●       Inferior fit compared to bespoke suits.
●       Only uses the finest fabrics available, including pure wool, cotton, and linen.
●       No customization options when picking the fabrics and designs. Usually made with inferior fabrics and interlinings.
●       Superior and unparalleled craftsmanship with experienced master tailors.
●       May lack finishing touches and appear ill-fitted.
●       100% customizable and unique to your tastes and preferences.
●       Limited design and style options, making it difficult to stand out in a crowd.
●       Supports sustainability and the ethical production of garments.
●       Mass-produced and harmful to the environment.
●       Quality craftsmanship ensures your bespoke tuxedo will stand the test of time.
●       Lower quality typically will not last for an extended period of time.
Collars & Cuff Bespoke Tuxedos
At Collars & Cuffs, we take pride in combining decades of craftsmanship with a truly immersive and one-of-a-kind sartorial experience. Every bespoke suit or tuxedo we design and craft reflects our legacy of the highest quality tailoring imaginable. Designed and crafted by master tailors with over twenty years of experience, our bespoke suits are entirely customizable to your personal taste, body, style, and personality. The result is an impeccable, truly one of a kind design.
With our bespoke suits starting at only 2,300 AED, we aim to provide an affordable luxury experience unlike any other. The C&C process begins with our client concierge introducing you to the world of bespoke styles and fabrics and ends with an impeccably tailored suit that speaks to your exact taste and fits your body perfectly. For your safety and convenience, we also offer a traveling tailor service where we attend to all your wardrobe needs from the comfort of your home or office.
Contact a member of our team to schedule your complimentary appointment.