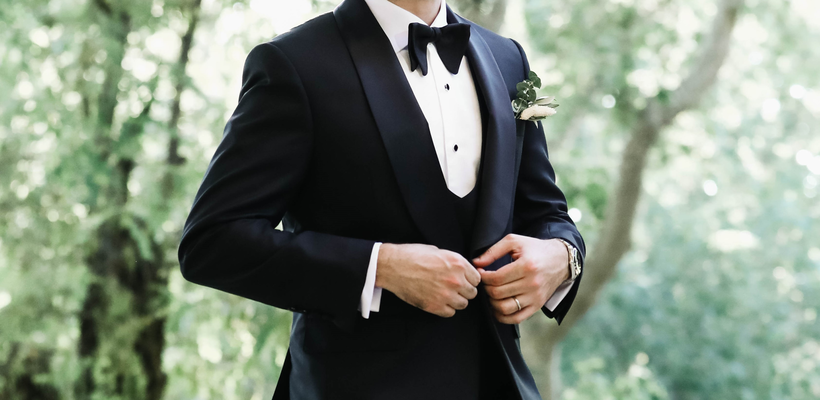 Blog
Top Groom Suit Suggestions For Every Wedding Occasion
10 Oct 2021
She's accepted your proposal, you've booked the date, found the venue, and have started to plan all of the details to make your wedding day one for the ages. After all, you've been waiting your entire life for this day, and your wedding deserves the best. So why would you settle for anything less than perfection when it comes to your wedding attire? The suit or tuxedo you wear on the big day should be as extraordinary as the woman you've decided to build your life with.
From black-tie weddings and laid-back nuptials on the beach to evening celebrations and mid-afternoon soirees, you want to look your best with a custom wedding suit or tuxedo. Here's everything you need to know to ensure you and your groomsmen are dressed to impress for your big day!
What is a Bespoke Suit?
True bespoke tailoring is the epitome of men's attire. Bespoke suits are made with the highest quality materials, construction, and skilled craftsmanship. Unlike ready-to-wear suits, bespoke suit patterns are individually designed for each garment order, and created by a skilled cutter.
Bespoke suits are designed to accentuate your features and hide any flaws. During the bespoke suit process, a master tailor will take upwards of 40 measurements to guarantee the perfect fit. From your measurements, your tailor will construct a pattern to serve as the framework for each of the various sections of the bespoke garment during construction. Aside from customizing the fabric, color, and details of a suit, a bespoke tailor can also customize the cut. You can choose from a wide range of styles, including British, American, and Italian cuts.
The British cut suit is the epitome of elegant style, functionality, and durability. With a cut that fits closer to the body, this style of suit is designed with tight-fitting sleeves ending with cuffs, a high armhole, and trousers featuring 2-3 pleats.
– Waist: Slightly pinched waist

– Vents: Double vents

– Pockets: Flap pockets

– Structure: Slightly structured

– Look: Sophisticated
The American Cut suit distinguishes itself from other cuts with a single vent in the jacket, straight lines, higher armholes, flap pockets, with natural padding in the shoulders for a fuller silhouette. This style also features a single-breasted jacket with two or three buttons.
– Waist: Straight cut

– Vents: Single back vent

– Pockets: Flap pockets

– Structure: Padded shoulders

– Look: Classic and comfortable
The Italian Cut caters to the slimmer waist of the average European resulting in a dramatic inverted triangle.
– Waist: Fitted "tapered" cut

– Vents: No vents

– Pockets: "Slash" no flap pockets

– Structure: Little to no padding

– Look: Sleek and modern
Different Groom Suits By Event
Not all weddings are the same. As such, you need to make sure your suit is made especially to match the tone and style of your wedding. For example, you wouldn't wear a formal tuxedo to a day-time beach wedding, just like you wouldn't wear a linen suit to your black-tie evening wedding. But not to worry, the experts at Collars & Cuff are here to ensure you are dressed in exactly the right suit to meet your personal tastes and preferences while matching the tone of your wedding day.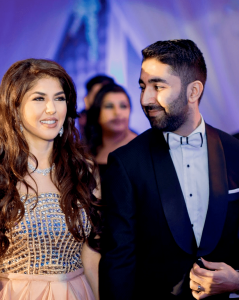 Black Tie Wedding
There are few events as elegant as the formal black-tie wedding. As the groom, you'll need to follow the black-tie dress code while setting yourself apart. Whether you prefer a classic tuxedo, morning coat, or tailcoat to match the occasion, you can customize your bespoke tuxedo to your exact specifications. However, you don't want to stand out for the wrong reasons (like failing to meet the black-tie dress code).
Traditional black-tie attire can include the following fabric types and colors:
– Midnight Blue Wool
– Black Wool
– Ivory Barathea
– Midnight Blue Mohair
– Black Mohair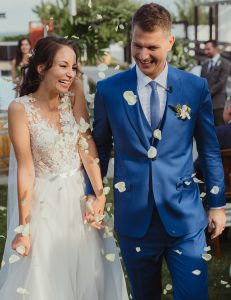 Semi-formal Weddings
Although less formal than a back-tie wedding, as the groom, you shouldn't feel limited to a simple suit on your wedding day. A custom suit on your wedding day shows refinement without the formality of full black-tie. From fabric and fit to pattern and color, you can customize your suit to your personal tastes and style. When you spruce up your suit with peak lapels or add a vest for distinction, the possibilities are endless!
Semi-formal attire can include the following fabric types and colors:
– Navy Blue
– Charcoal Sharkskin
– Medium Grey Birdseye
– Royal Blue Twill
– Black Twill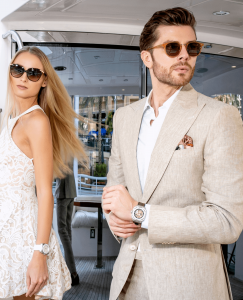 Beach Weddings:
Laid back and informal, beach weddings call for summer colors and breathable fabrics. Whether you opt for comfortable cotton, lightweight linen, or luxurious silk blends, you can customize your bespoke suit to meet your needs. Perhaps the best part of a beach wedding is the wide range of suit color and pattern options. From khaki and sand to blue and seersucker, you can have a little fun with your wedding suit.
Suggested fabrics and colors for a beach wedding suit include:
– Pastel Colored Lightweight Wool
– Ivory Linen
– Classic Seersucker
– Sand Linen
– Blue Wool Silk/Linen Blend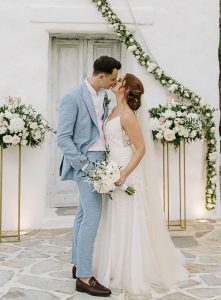 Countryside Weddings:
Are you getting married in an intimate vineyard or along the cozy countryside? When it comes time to order your suit, the groom's attire should match the surroundings and the season.
For a Spring/Summer wedding, consider light-weight cotton blends or linen wedding suits. For Fall celebrations, consider flannel and tweed suits for the perfect wedding bespoke suit. Depending on the season of your big day, suggested colors and fabrics include:
– Light or Medium Grey Wool
– Light Blue Linen
– Marbled Grey Flannel
– Forest or Olive Herringbone Wool
– Blue Donegal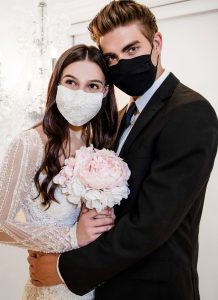 Covid Micro Weddings:
Getting married in the era of Covid can prove challenging, but finding the right suit doesn't have to be. Pandemic era weddings tend to be smaller, more relaxed, and casual due to pandemic restrictions and mandates.
Cultural Weddings
Cultural weddings are a rich mixture of heritage, color, and style. At Collars & Cuff, all of our suits and garments are bespoke. Our skilled tailors are able to customize details such as the cut, accessories and colors to suit your personality and wedding style. We also specialize in designing and creating bespoke suits for cultural events.
Don't Forget the Rehearsal Dinner
Before the wedding day, many traditions call for a rehearsal dinner. Typically a semi-formal event, grooms can wear a personal bespoke suit or even a blazer and trouser ensemble to look their best as they prepare for their pending nuptials.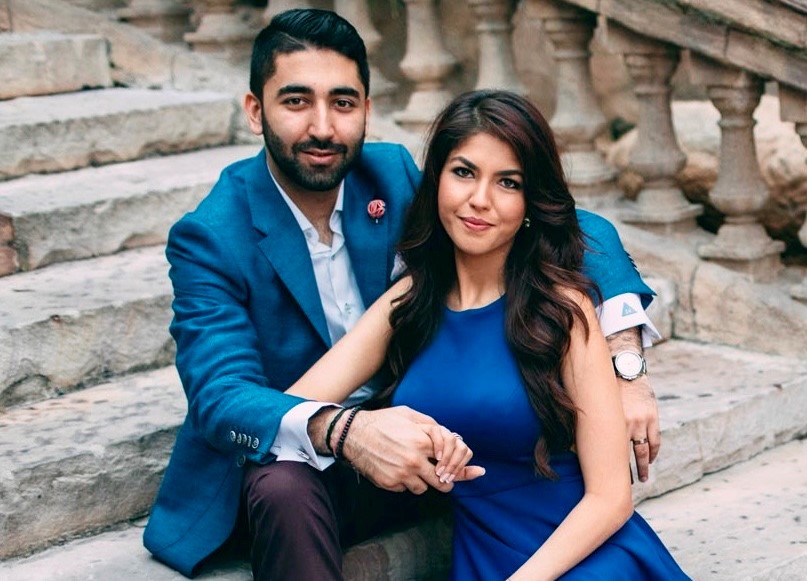 Groomsmen & Family
Once you've chosen the fabric, color, and style of your bespoke suit, you'll need to determine what your wedding party will wear. Custom groomsmen suits help to complete the unified aesthetic while still providing them with their own option for individual style. Bespoke suits also allow your groomsmen to wear their customized suit long after the wedding day. Best of all they don't need to match exactly. Modern weddings no longer require suits to match.
Generally speaking, groomsmen suits should:
Match the style of the grooms suit
Coordinate color, fabric, and details of the grooms suit
Compliment the bridesmaid's attire
Include details that compliment the personal style and tastes of the groomsmen (such as buttons, vests, monograms, etc.)
With a reputation for designing suits based on the wedding theme, we offer special appointments and packages for grooms, groomsmen, and even relatives of the bride and groom based on their specific wedding requirements.
Collars & Cuff Bespoke Wedding Suits
At Collars & Cuffs, we combine decades of timeless craftsmanship with a truly immersive experience. With over twenty years of experience, our master tailors create bespoke garments customized to your personal taste, body, style, and personality. A truly one-of-a-kind experience, our bespoke suits require up to 50 hours, over the course of 4-6 weeks, to complete from start to finish.
For the safety and convenience of our clients, we also offer a traveling tailor service where we attend to all your wardrobe needs from the comfort of your home or office. Contact a member of our team to schedule your complimentary appointment.
For more information, Call us on +971 4 333 7848 | +971 55 497 4342 or email us at suit@collarsandcuffs.ae