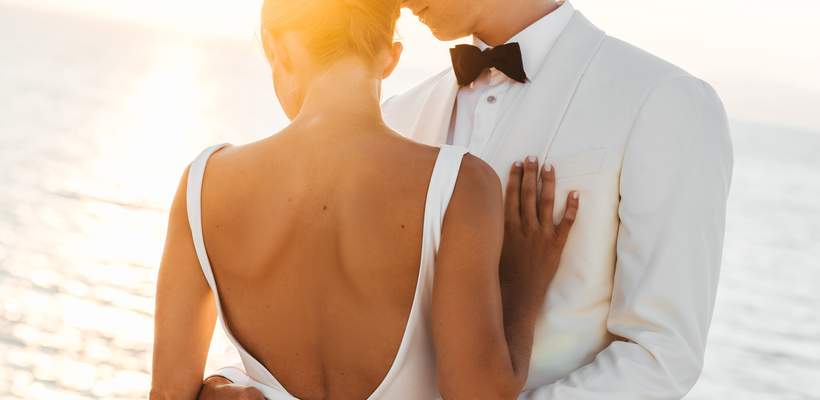 Blog
Groom Suit Guide
29 Apr 2021
When most people think of wedding planning, they think of the venue, the menu, the guests and entertainment, the flowers, the photographer and videographer, and most importantly the bride's gown. Let's not forget the groom. After all, it's their big day too!
Since the bride traditionally handles all wedding planning (with a little of the groom's help), it leaves the groom with plenty of time to focus on his look for this memorable day. Among the most important decision for a groom are his wedding suit and accessories.
Should the groom wear a suit or tuxedo?
The groom can choose between a bespoke tuxedo or a bespoke suit for his big day. When it comes down to it, the choice and style for the groom depend on the tone and style of the wedding. For example, is the wedding a formal event or an informal event (such as at a beach or vineyard)?
Beach wedding: while most grooms-to-be opt for a more relaxed bespoke suit crafted from a breathable, lightweight silk or linen blend fabric, many grooms also opt for a formal tuxedo for their beachside wedding ceremony.
Formal wedding: a tuxedo in classic black or midnight blue offers an elegant and timeless look for traditional and formal weddings.
Countryside wedding: a modern bespoke suit provides a simple yet elegant look for your countryside or vineyard wedding.
Ethnic wedding: whether you opt for a tuxedo or a suit, the groom's attire for an ethnic wedding requires attention to details to account for the cultural significance of colors and fabrics.
Rental or purchase?
Many people think it's best to rent their tuxedo or suit for their wedding day. After all, it's only for one day. However, this is the first day of the rest of your life with your lovely bride! You want to look and feel your best as all eyes are on you and your soon-to-be wife.
Benefits of purchasing a wedding bespoke suit or tuxedo include: 
– A guaranteed perfect fit for the groom.
– A custom design made of the finest fabrics available including pure wool, cotton, and linen.
– Superior and unparalleled craftsmanship with experienced master tailors.
– 100% customizable and unique to your tastes and preferences (such as fabric, color, thread, buttons, fit, style, and more)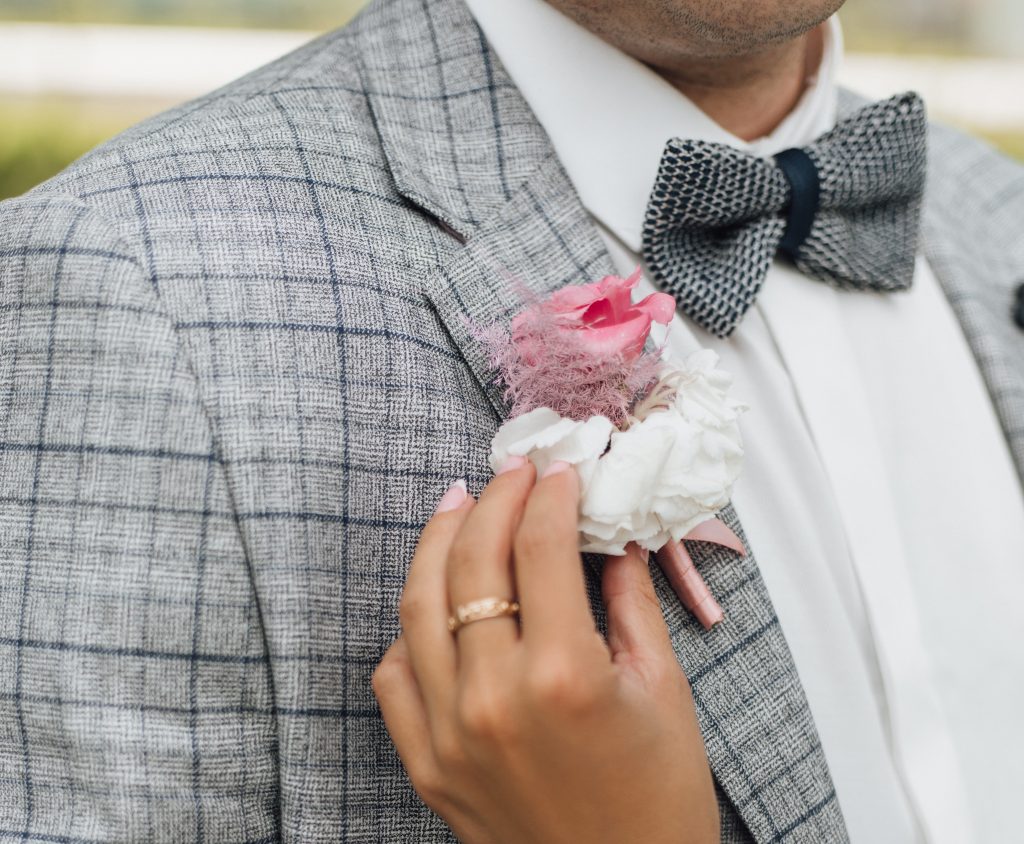 What color suit is best for a groom?
Traditionally, black, midnight blue, and classic gray are the most common colors for a groom's wedding attire. However, many grooms are moving away from traditional colors and opting for bolder colors and mismatched or broken suits for less formal or casual weddings. 
When choosing your suit or tuxedo color, be sure to take into consideration the color of the bridesmaid's dresses, as well as the time of year you will be getting married. For example, you may opt for a lighter color during the warmer spring or summer months of the year.
Does the groom wear the same suit as the groomsmen?
For most weddings, the groomsmen wear attire that's similar or the same as the groom. But ultimately, the choice is up to you. Even when all of the groomsmen wear the same suit or tux, it's important that their attire matches the style and feel of the groom's look. For example, if the groom is wearing a formal black tuxedo, you wouldn't want your groomsmen wearing gray suits. Style should always match (i.e., tux vs. suit), and colors should match or coordinate with the groom's style.
How long will it take to order a bespoke wedding suit?
The last thing you want to be worried about is your wedding attire as the big day approaches. The groom should start his bespoke wedding suit or tuxedo process at least two months before their wedding date. If you are planning your wedding during the busy wedding season, it's never too early to begin the planning.
The bespoke process is not a rushed one. Suits and tuxedos are created in-house and made to last a much longer life than typical mass-produced fashion garments. An authentic bespoke suit is a marvel of quality and craftsmanship. Requiring up to 50 hours from start to finish, a fully bespoke suit is handmade and will take 2-3 weeks at minimum to complete. During this time, the client will be invited for fittings where he will try on the suit while it's being made. 

Collars & Cuff Wedding Attire for Grooms and Groomsmen
At Collars & Cuffs, we take pride in combining decades of craftsmanship with a truly immersive and one-of-a-kind sartorial experience. Every bespoke wedding suit or tuxedo we design and craft reflects our legacy of the highest quality tailoring imaginable. Designed and crafted by master tailors with over twenty years of experience, our bespoke suits are entirely customizable to your personal taste, body, style, and personality. The result is an impeccable, truly one-of-a-kind design.
With our bespoke suits starting at only 2,300 AED, we aim to provide an affordable luxury experience unlike any other. The C&C process begins with our client concierge introducing you to the world of bespoke styles and fabrics and ends with an impeccably tailored suit that speaks to your exact taste and fits your body perfectly. 
For your safety and convenience, we also offer a traveling tailor service where we attend to all your wardrobe needs from the comfort of your home or office.
Contact a member of our team to schedule your complimentary appointment.